Feb 10, 2011 Sinfully Delicious: Michael and David Winemaker
February 10, 2011 Our wine party will feature a sinfully delicious tour of Lodi with Michael and David Winery….Seven Deadly Zins and several other "sins" paired with fabulous appetizers at Baur's Downtown Denver with a visit from Jeff Farthing winemaker for the winery.
Please go to Payment Link: http://uncorkedmichaeldavid.eventbrite.com/ to confirm with payment! We will not sell tickets at the door.
What:Winemaker's Event with Michael and David Winery yWinery Link: Winery Link: http://www.michaeldavidwinery.com/wines/ Straight from the Zinfandel capital of the world, Lodi California in the northern portion of California's central valley….our winemaker will be bringing "sinfully delicious" wines from their well known portfolio of wines.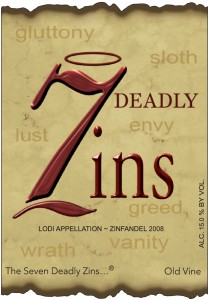 Crowd: Young/Mid Professionals mid/late 20's through 40's/early 50's
When: Thursday February 10, 2011 at 6:00 PM P please be prompt as we will be serving each wine and appetizer paired followed by dinner for members who stay for dinner.
Where: Bauer's Restaurant 1512 Curtis St.
Cost: $ 29.99 includes tax and tip (Wine Party Only)
Payment Link: http://uncorkedmichaeldavid.eventbrite.com/
Dress: Business/Dressy Casual to Business/Dress to Impress
Please Note: NO TICKETS WILL BE SOLD AT THE DOOR/NO WALK UPS!….sorry but we will have to turn away anyone who doesn't have an advance ticket as wine and food has been allotted based on the ticketed attendees and we do not handle money at the door for wine and food pairing events We expect over 100 attendees with a winemaker flying in and it's difficult to check folks in and handle money. Our events sell out quick! Please see the Denver Wine Meetup for the refund policy.
Parking: Light Rail to the convention center and walk two blocks   http://maps.google.com/maps?q=1512+Curtis+St%2C+Denver%2C+CO+80202
Wines:
–Incognito Red A tango of Mourvedre, Syrah, Petite Sirah, Cinsault, Carignane, Tannat, & Pinot Noir
–Incognito White Rhone-style blend: 58% Viognier, 19% Chardonnay, 9% Malvasia Bianca, 7% Roussanne, 4% Sauvignon Blanc, & 3% Symphony. Fans of Conundrum and Gerz will love this wine.
–7 Deadly Zins-Zinfandel
–MDV Sauv. Blanc Sauvignon Blanc with small amounts of Semillon and Muscat Canelli
–6th Sense Syrah Primarily syrah blended with a touch of petite sirah.
–Petite Petit blend of Petite Sirah (85%) and Petit Verdot (15%)
Dinner after the wine tasting: We usually have 50-60% of the group stay for dinner after the event. It's a great way to continue the conversation with new friends. Bauers will be offering a prix fix menu for $26.40 a person plus tax/tip pre-Restaurant week (we'll have the menu first!). There is a place on eventbrite to RSVP for dinner afterwards.
Visit Website: Denver Wine Meetup